Category Archives:
Technology
Why Public Transportation Sucks in the US – Video
Shell made mistake by pulling out of Guyana basin
By Bert Wilkinson – Caribbean Life News
Now that Guyana's oil and gas basin has been deemed as one of the hottest and most exciting prospects in the world, Shell Oil has to be regretting its decision to withdraw as an investment partner with United States giant ExxonMobil, which has so far drilled six successful wells offshore Guyana worth about 3.2 billion barrels of oil, officials said Monday, Jan. 29.  Continue reading →
The shortage of skilled workers in Canada's industrial sector is reaching a new intensity, with many factory owners saying the lack of talent is hindering the growth of their companies.
"It's getting worse every year," says Doug Kamphuys at Ellesmere Fabricators Ltd., a custom steel fabricator that makes massive smokestacks and other metalwork for hospitals and waste-water treatment plants.
From the Rosaliene Bacchus Blog.
Three Worlds One Vision
Giant water lily, Victoria Amazonica – Pantanal – Mato Grosso do Sul – Center-West Brazil
Photo Credit: Andre Dib/WWF

My Poetry Corner February 2018 features the poem "Theology of Junk" (Teologia do Traste) by Brazilian poet, lawyer, and farmer Manoel de Barros (1916-2014). Born in Cuiába, Mato Grosso, he was a year old when his father decided to start a cattle ranch in Pantanal, the world's largest wetland area, in Mato Grosso do Sul. The young Manoel grew up playing in the yard, between the pens and the "unimportant things" that would influence his poetry.
In "Manoel by Manoel," he describes his childhood experience:
… I used to play pretending that stone
was lizard. That a can was a ship. That the sloth was a
little problematic creature and equal to a young grasshopper.
I grew up playing on the ground, among ants. Of a
childhood free and…
View original post 489 more words
Jamaican takes over The Guyana Power and Light Inc. (GPL) leadership
By: Denis Chabrol -Demerara Waves – February 2, 2018
The Guyana Power and Light Inc. (GPL) on Friday announced the appointment of Mr. Albert Gordon effective February 1, 2018 as the company's new Chief Executive Officer (CEO).
Mr Gordon is a Jamaican national but stands truly as a son of the Caribbean. The appointment of Mr. Gordon forms part of GPL's plans to modernize, expand and improve electricity supply in support of the development of Guyana," the power company said in a statement.  Continue reading →
Data and medicine … A revolution in health care is coming
Welcome to Doctor You
Feb 1st 2018 – The Economist
NO WONDER they are called "patients". When people enter the health-care systems of rich countries today, they know what they will get: prodding doctors, endless tests, baffling jargon, rising costs and, above all, long waits. Some stoicism will always be needed, because health care is complex and diligence matters. But frustration is boiling over.
This week three of the biggest names in American business—Amazon, Berkshire Hathaway and JPMorgan Chase—announced a new venture to provide better, cheaper health care for their employees. A fundamental problem with today's system is that patients lack knowledge and control. Access to data can bestow both.
The 100 best nonfiction books of all time: the full list
By Robert McCrum  – The Guardian
After two years of careful reading, moving backwards through time, Robert McCrum has concluded his selection of the 100 greatest nonfiction books. Take a quick look at five centuries of great writing.: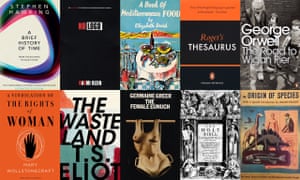 1. The Sixth Extinction by Elizabeth Kolbert (2014) 
An engrossing account of the looming catastrophe caused by ecology's "neighbours from hell" – mankind.
2. The Year of Magical Thinking by Joan Didion (2005)
This steely and devastating examination of the author's grief following the sudden death of her husband changed the nature of writing about bereavement.
By guyaneseonline
|
Also posted in Arts / Culture, Business, Commentary, Economics/Finance, Education, Environment, finance and trade, International News, Personalities, Philosophy, Politics, Racial Conflict, Religion, Science
|
Tagged The 100 best nonfiction books of all time: the full list - By Robert McCrum  - The Guardian
|
Comments (1)
Ways of Minimizing Cellphone Radiation Exposure
S
cientists can't seem to make up their mind about cell phones. Do they produce radiation? Yes. Is the radiation they produce harmful to us? They aren't sure. However, putting all their reports together, a pattern of tips and precautions becomes clear.
The most important thing you need to know right away is that your phone sometimes transmits a stronger (and therefore more hazardous) signal, while at other times it will transmit very weakly or not at all.
Inside One of America's Last Pencil Factories – New York Times Feature
A pencil is a little wonder-wand: a stick of wood that traces the tiniest motions of your hand as it moves across a surface. I am using one now, making weird little loops and slashes to write these words. As a tool, it is admirably sensitive.
The lines it makes can be fat or thin, screams or whispers, blocks of concrete or blades of grass, all depending on changes of pressure so subtle that we would hardly notice them in any other context. (The difference in force between a bold line and nothing at all would hardly tip a domino.) And while a pencil is sophisticated enough to track every gradation of the human hand, it is also simple enough for a toddler to use.    Continue reading →
By guyaneseonline
|
Also posted in Commentary, Education, Geography, History, Science
|
Tagged 3000 year sunspot record, African Mega Lakes, China's Food Production Strategy for the Solar Minimum | Mini Ice Age 2015-2035 - video, Chinese Ghost Cities, Chinese Investment in Africa, Ming Dynasty, Mongol States, Qing Dynasty, Silk Road Map, Song Dynasty, String of Pearls, Temperature record charts, Yuan Dynasty Collapse, Zheng He Voyages
|
Comments (0)